Click through to MindBodyOnline to register for classes, see the online schedule, access your account, or purchase passes online.
Download the iphone app for MindBodyOnline and have the latest class/time/teacher info at your fingertips!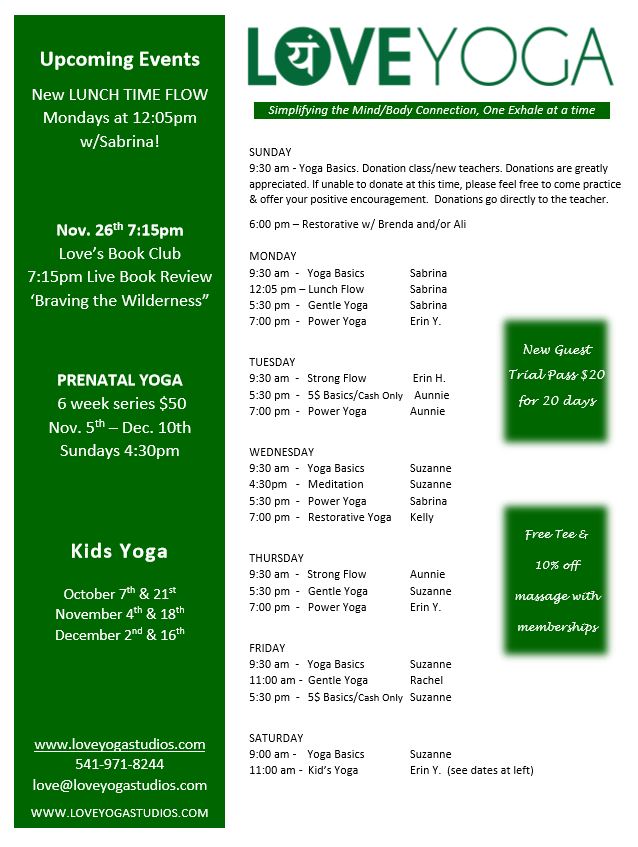 Our classes focus on moving with the breath and awareness in order to release tension and allow transformation to take place in the body and the mind.  Expect to find stillness, strength and long savasanas in every class. (sequence and style vary with each teacher)
BASICS & BASICS 5$ Start with Love. Learn the basics…but then make them your own. You can up your game or cool your jets at any time during the 'Basics' classes. These classes are also designed to keep you in the know! You can refresh any level of yoga practice with the latest yoga related wellness info that helps you breathe, move, strengthen, balance, release, relax and connect with yourself and others. You're never too old to learn, never too hurt to heal and it's never too late for Love. (Basics primarily focuses on the basic postures and breathing tips you might find in any yoga class. For other yoga basics such as the history, philosophy, teaching and trainings, mantras, mudras, bandhas, chakras and more . . . ask about our one day 8 Limbs workshop to go beyond the basics).
GENTLE YOGA. A balanced cycle of focused breathing and moving is key to releasing stress and tension. Gentle yoga combines simple movements with a sense of relaxation and awareness. It's like riding a bike! Pedal and glide, pedal and glide. Inhale, exhale, inhale, exhale. Perfect for beginners or for those seeking stress relief, injury rehab, flexibility, toning and balance. Or just 'seeking' in general.
RESTORATIVE. Bask in blissful relaxation with this soothing combination of seated and reclined postures designed to release tension, promote healing and create calm. Throw in a little lavender, (optional), a supportive bolster and a bit of shiatsu for a completely meditative experience. A deep sense of relaxation that reaches the central nervous system is crucial for regenerating cells, repairing damage from stress and rejuvenating your ability to thrive. Cultivating santosha* is the perfect complement to other more vigorous forms of exercise.   (*Santosha: contentment, satisfaction and acceptance).
Qi GONG. First the mind, then the blood, then the 'chi'. Little by little, breath by breath, the art of moving and breathing encourages a healing flow of energy in and around the body, sometimes referred to as 'kindness'. This practice, done standing, helps you draw energy in from your surroundings and in turn share your energy back out into the world. It all starts with a kind heart.
***POWER / CORE Start with your Solar Plexus and strengthen your whole self! Aunnie's fusion of yoga, Pilates and barre techniques will simultaneously fire you up and calm you down. Core strength creates total body stability from the way you stand, to the way you twist, bend, lift, curl and breathe. Centering starts here – at your Core.
STRONG FLOW Venture beyond the basics to challenge your body and your mind. Longer trails, higher peaks, twists and turns and cliffhangers! (i.e. more advanced sequences, deeper twists, and balance poses). Getting off the beaten path will provide many opportunities in this strong vinyasa flow to expand your horizons by believing in yourself and encouraging others. Let's do this together – Strong bodies, Smart Minds!
MEDITATION. Feel the Space! Feel the freedom of holding still in the privacy of a dedicated space. Ten minutes of introductory tips and techniques and a little neuroscience to get you started and then 20 minutes of blissfully, golden silence. Take a deep breath, let out a big sigh and say it with us . . . Ahhhhhhhhhhhh. That might be the only mantra you ever need.
***POWER YOGA Power Yoga builds your strength from the inside out. YOU are empowering yourself. Think Mental to Muscle, Spine to Skin, Cell to Soul. Enjoy the arm balances, inversions and backbends as you get to know your muscles, your spine and your heart. It's not fast and furious… it's building endurance and resilience. It's a solid blend of Tapas and Ahimsa, fueling the fires without getting burned. *Tapas (heat) *Ahimsa (non harming).
PRENATAL YOGA Pregnant and Peaceful with a passionate sense of purpose. Now that you're eating for two, sleeping for two and breathing for two, perhaps it's perplexing to keep physically fit and peacefully prepared. Mindfulness helps and fitness is great but YOU MATTER most. We have space for you here where we guide you through supportive sequences for your body and your state of mind.
KIDS YOGA  It's a jungle out there and our kids already know it. Here at Love with Erin Yatsui and her two lovely little creatures, kids move from one jungle animal to the next. They learn the strength of their bones, the power of their breath, the sound of their heartbeat with monkeys, lizards, frogs and more! They express their limitless imaginations from one tree to the next. They slither and then they simmer, reveling in a guided relaxation at the end of every class that leaves them with a strong sense of self and serenity. (Okay sometimes it takes more than one session).
***   Strong classes, some yoga experience recommended.