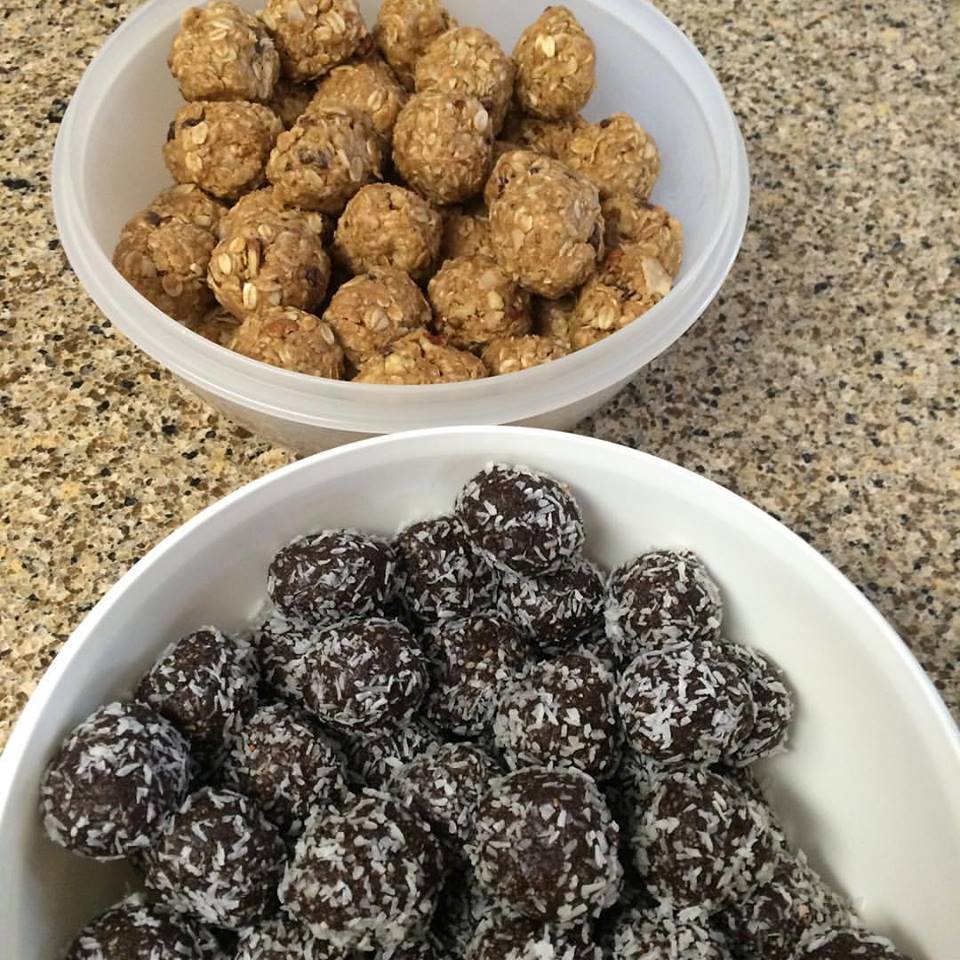 Low and No sugar protein treats from Aunnie
and Dawn, to offset sugar cravings and keep
your taste buds happy!
No-Bake Energy Bites
Ingredients
1 c old fashioned oatmeal
2/3 c coconut
1/2 c peanut butter
1/2 c ground flax
1/2 c chocolate chips (optional)
1/3 c honey
1Tbsp chia seeds (optional)
1 tsp vanilla
Method
Stir all ingredients together in a medium bowl until thoroughly mixed. Cover and let chill in the refrigerator for half an hour. Once chilled, roll into balls of whatever size you would like . Add a bit more peanut butter if they are not sticking together. Store in an airtight container in the refrigerator. Keeps for up to one week. I don't go through the chilling process…I just roll!
Tips
Substitution ideas can abound for just about any of these ingredients! Feel free to substitute in your favorite nut butter (almond butter, sunflower seed butter, etc.) for the peanut butter. And you could also add in some wheat germ in place of some or all of the flax seed. I would caution, though, against substituting agave nectar for the honey, as the honey's thickness helps hold things together.
Some other fun substitutions for the chocolate chips (or an addition to them) could include: • chopped dried fruit (apricots, dates, raisins, etc.) • dried berries (cranberries, cherries, etc.) • chopped almonds, pecans, walnuts, or sunflower seeds • other chips (butterscotch, dark chocolate, milk chocolate, white chocolate, M&Ms, etc.) • other grains (different kinds of oatmeal, rice cereal, etc.)
Almond Joy Energy Bites
Prep Time: 15 minutes Total Time: 15 minutes Yield: About 40 energy bites
Ingredients
12 oz. (about 2 cups, loosely-packed) Medjool dates (**see note below about types of dates and substitutions**) 2 cups almonds
1/2 cup shredded coconut
1/2 cup unsweetened cocoa powder
1 Tbsp. coconut oil
1 Tbsp. vanilla extract
1/2 tsp. almond extract (optional)
Method
Add dates and remaining ingredients to a food processor. Pulse a few times to combine, then use a rubber spatula to scrape the sides of the bowl. Blend the mixture for about 3 minutes, or until the mixture has moved past the crumbly stage and begins to clump and stick to the sides of the food processor.
Use a spoon or small cookie scoop to measure out a tablespoon of dough (or your desired size) and roll it into a ball. If desired, roll the ball in a bowl of coconut flakes. Or just set it aside to eat as-is. Repeat with the remaining dough. (Alternately, you can flatten the dough into the bottom of an 8×8-inch parchment-lined baking dish, then cut it into bars.)
Store the energy bites in an airtight container for up to 2 weeks.
**I used Medjool dates in this recipe, which are already nice and soft. If you substitute another kind of date, you may need to soak them in warm water for 10 minutes first in order to soften then. (Then drain them before using.)