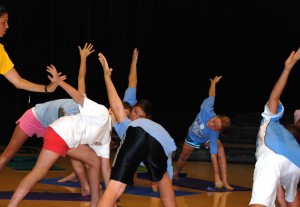 SHOW YOUR LOVE… BE A MAT SPONSOR  FOR JUST TEN DOLLARS!
Love Yoga is going to Pioneer School for after school Yoga Fun!!   Mrs. Kathy Clunes, long time yoga practitioner and 4th grade teacher at Pioneer is bringing LOVE to Lebanon!     Starting next week, Love Yogis will be guiding kids, K-8 through a mindful yoga practice that includes an outlet for energy and a place for creativity within the scope of building focus, balance and most of all… peace.
If you would like to participate in this program, you can help in two very much needed ways…
(At 6, Sebastian, in Tree pose, is one of the youngest in the K-8 group)
1.   MAT SPONSOR $10 
Go to the online store and purchase a $10 mat for the program.
These mats are sold at cost and will go directly to the student or the facility.
2.  LOVE YOGA VOLUNTEER:
Volunteer positions range from yoga assisting, prop support, logistics and/or finances.
Let us know what your capabilities are and how you might want to be involved.
loveyoga@comcast.net